Control Rooms
Our turnkey solutions
IBITEK, official partner of Knürr, assits you
What is a control room?
A control room is a space where professionals are dedicated to manage complex situations in various fields such as emergency services, process control, security, finance, transportation, energy and utilities, broadcasting, army, healthcare, IT and others.
The layout and design of a control room
The control room is an essential element in many work environments. It is important that the room is well equipped to allow the occupants to work safely and efficiently. Here are some of the furniture items that should be included in your control room:
Desks
Desks in the control room are equipped with several rows of monitors and control panels. The monitors display images from the security cameras set up throughout the building.
Chairs with a good ergonomic design
Chairs have to be ergonomically correct so that the controllers can work in the best conditions as possible. The chair should be adapted to the height of the person, with an adjustable backrest and footrest.
Control desk
The control desk is the central element of the control room. It is from this workstation that the entire production process can be monitored and managed. The control desk is therefore an essential tool for ensuring safety and quality in production.
Security camera
The security camera is an essential part of the control room. There are different types of cameras, each with its own benefits and weaknesses.
Video wall for operator
The video wall for operator consists of a series of monitors that allow a single operator to monitor several processes at the same time. This significantly increases productivity by reducing reaction times.
The control room is usually where all cameras are connected and displayed on monitors, allowing operators to see what is happening in the building. The operators can then make adjustments if necessary.
Why should you consider a designed ergonomic control room?
The room must meet ergonomic requirements to ensure that controllers and other staff are productive. Operators who sit for long hours in front of control panels with various screens need to be seated comfortably, otherwise their efficiency and responsiveness will suffer.
A control room should not only be an efficient working tool, but also a representation of the company's values. Indeed, taking into consideration the working conditions and well-being of your employees is essential for your company's image.
By creating an ergonomic working environment, the company cares about the health of its staff. It also helps to improve the company's brand image by conveying a commitment to excellence through the development of its employees and the quality of its services.
This room is useful for all professionals who need to monitor their premises in real time.
Personalized support
KNURR Partner for Africa and the Middle East, IBITEK supports you in the design, supply, delivery and installation of your projects.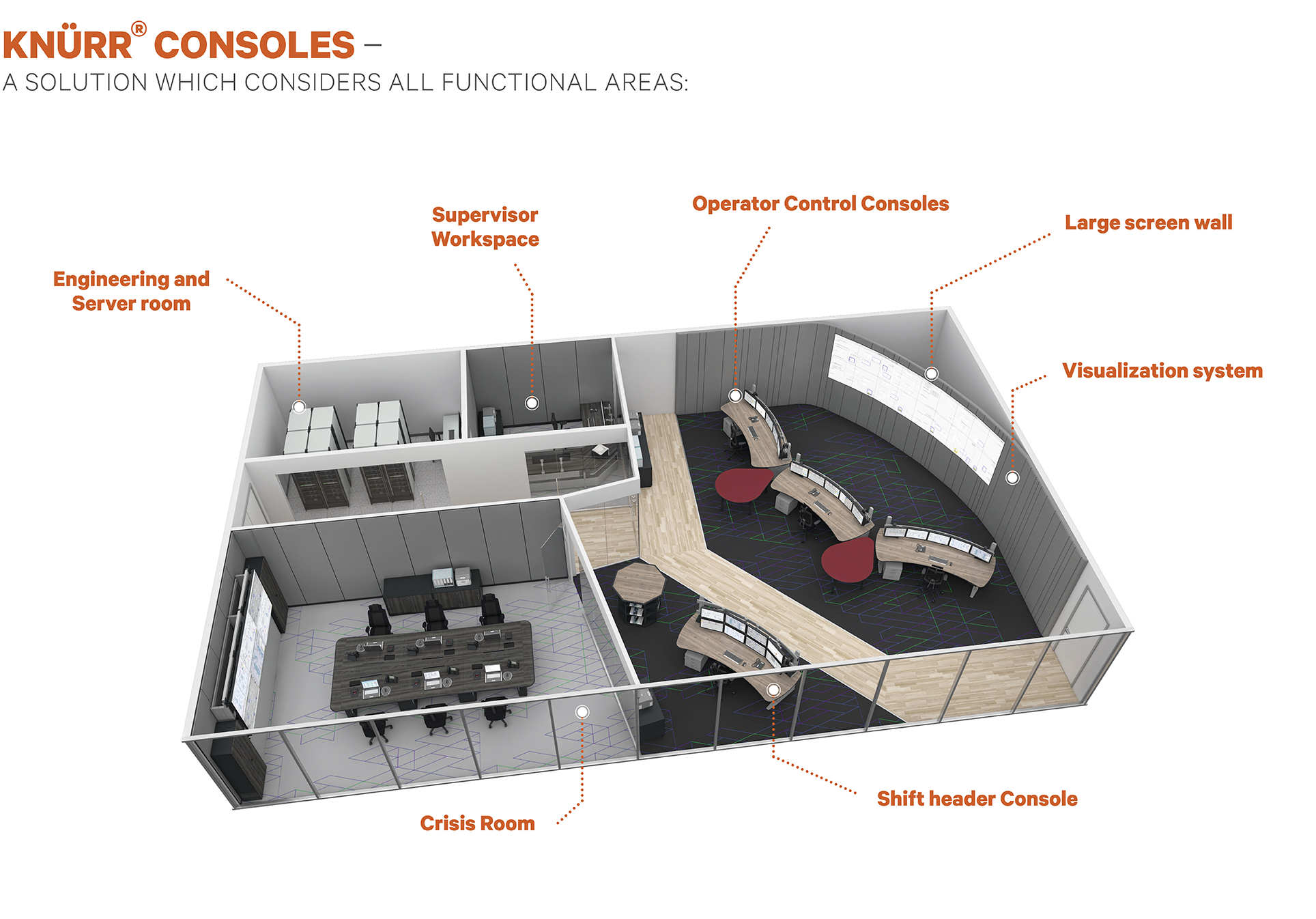 Industry

Transports

Datacenter

Security
Police
Fire brigade
Emergency services
Disaster control
Civil protection
Private security
A recognized partner for integrated solutions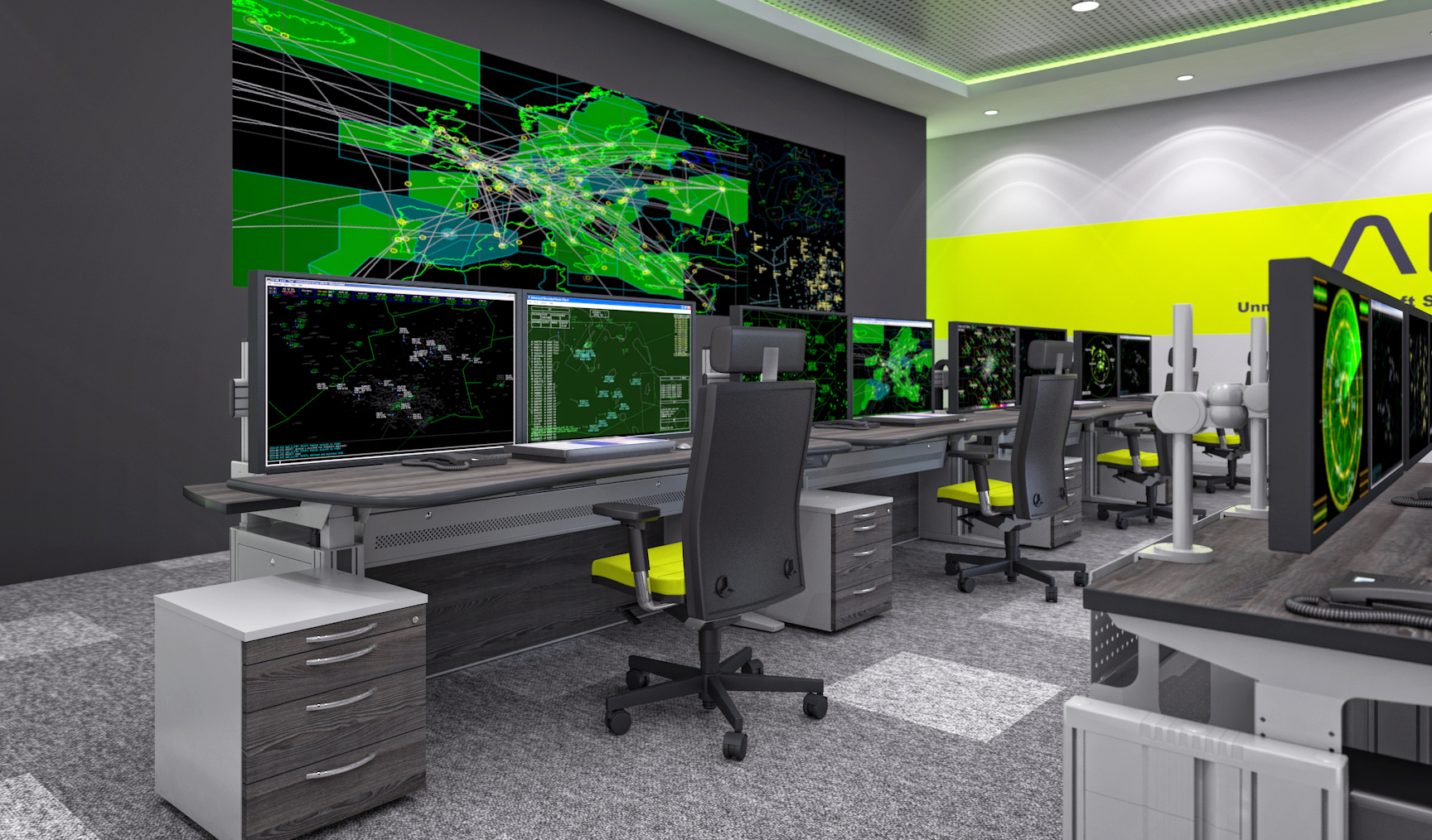 Solution for modular and ergonomic workstations.
Large technical pedastal with integrated passive ventilation guarantee for optimized equipment integration.
The modular design allows a wide range of configurations and ensures maximum flexibility. Console elements can be retrofitted and upgraded at any time to stay future-proof.
High-quality materials like aluminum die-cast profiles guarantee maximum stability and durability.
Elicon®VC-E
Whether for video surveillance, security dispatching or engineering workstations, the product range offers optimal solutions for a customized, ergonomic and efficient workstation.
The modular design enables a wide variety of configurations and guarantees the highest degrees of flexibility. Combinations of tables can be retrofitted or modified at any time and without considerable effort.
Ergocon®
Solution for H24 control room deployments with the best possible ergonomics, using multidimensional setting options on three axes (table height, monitor height, and viewing distance).
Solutions for individual areas of application and perfect device integration from a wide variety of console models.
In combination with Knürr Ergocontrol, each user can have customized settings.
This free seating concept guarantees efficient workstation ergonomics.